Organisation where the dissertation was defended: UNIVERSITY OF LIBRARY STUDIES AND INFORMATION TECHNOLOGIES (ULSIT) – SOFIA, BULGARIA.
Doctoral programme:  BOOK SCIENCE, LIBRARY SCIENCE AND BIBLIOGRAPHY
Code of Professional Field: 3.5. Public communications and information sciences
 DISSERTATION TITLE (THEME): PROBLEMS AND PROSPECTS OF VOCATIONAL EDUCATION AND TRAINING IN BULGARIA
SUPERVISOR: PROF. DSC. IVANKA YANKOVA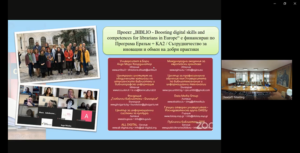 On 15 December 2020, our colleague from the Biblio partner ULSIT  – Denitsa Dimitrova successfully defended a dissertation in the doctoral programme "Book science, library science and bibliography" in professional field 3.5. Public communications and information sciences.
Her dissertation is titled "Problems and prospects of vocational education and training in Bulgaria", and her supervisor is Prof. DSc Ivanka Yankova.
The third chapter of the dissertation "The Experience of ULSIT in the Field of Continuing and Vocational Training" presents the contribution of ULSIT in the field of the researched problem. This part also presents our Erasmus+ project "BIBLIO – Boosting digital skills and competences for librarians in Europe".
Because of the COVID-19 pandemic, the defense was conducted online. It was attended by over 30 people, including representatives of ULSIT, academic staff, colleagues, students, family and friends.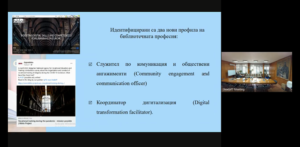 Congratulations, Denitsa! Biblio project partners are proud of your achievements and wish you every success in your future endevours!
By ULSIT