On 7-8 October 2020,  our project partner ALL DIGITAL, a pan-European association working in the field of digital inclusion and empowerment, will organise its 13th annual summit ONLINE. The event is run in collaboration with ALL DIGITAL German members – Helliwood, JOBLINGE, and Digital Opportunities Foundation. It brings together representatives of networks and organisations working to enhance digital skills of European citizens.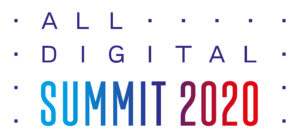 ALL DIGITAL Summit 2020 is supported by the Ministry for Economic Affairs and Energy of the Federal Government of Germany, which has the Presidency of the European Union from 1 July to 31 December 2020. The German Government has made digital learning one of the key priorities for education and training during their EU Presidency.
The theme of the Summit is "Competences for the Future", and keynotes, panels, lightning talks and workshops will be organised around these four topics:
Towards a version 2.2 of DigComp > DIGCOMP
The future of digital competence centres > FUTURE
Recognition of digital competence certificates in Europe > CERTIFICATION
Lessons learned during Covid-19 > LESSONS
Check the PROGRAMME to learn more about the sessions.
Our Biblio project will be presented at the lightning talk by our project partner Public Libraries 2030. The talk will present the findings and methodology from the initial research phase and a quick overview of the results at national level. It will touch on the various training needs for library professionals regarding DigComp 2.1 areas (safety, digital content creation, and problem solving), communication, and digitisation as well as the job profiles that were developed. The aim of this talk is to push for the redefinition of roles within the library sector as a consequence of the digital transformation. In doing so, the Biblio project recognizes that libraries should evolve to meet the current skills needs and to equip their staff and users with the skills relevant for today's digital environment.
Would you like to know more? We invite you to attend the Summit and meet participants from across Europe!
Registration for the event is mandatory, please fill in the REGISTRATION FORM by 1 October 2020.
Summit website: summit.all-digital.org
By ALL DIGITAL
Featured image by Stefan Steinbauer on Unsplash