The role of libraries in digital transformation and the goals and activities of the Biblio project were presented by Assoc. Prof. Dr. Aneta Doncheva, a researcher in the project for GLBF during the online conference "Digitalization and innovations in the sphere of cultural heritage – Challenges and opportunities",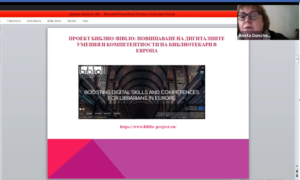 The conference was organized by Iskra Mihaylova Bulgarian MEP on 22 June and brought together members of the European Parliament and the Commission, the Ministry of Culture, the National Assembly of the Bulgarian Academy of Sciences, of the National Association of Municipalities and representatives of the cultural and scientific institutions. Commissioner Mariya Gabriel and the Minister of Culture of The Republic of Bulgaria Boil Banov participated in the event.
The purpose of the debate was to hear the position of the national legislator, academia, international organizations in the field of cultural heritage, academia, libraries, and local authorities. During the conference, they discussed and exchanged experiences on including the problem of digitalization of cultural monuments – preservation, production, and presentation as tourists products.
"Cultural heritage is the soul of Europe, it is our DNA. According to the Eurobarometer, 80% of Europeans believe that cultural heritage is important to them. Culture and cultural tourism are also economically important, so we must use every opportunity for a more innovative economy in the field of cultural heritage and tourism," said Commissioner Mariya Gabriel and added, "Only when we work together we can build a real ecosystem of cultural heritage."
All participants share the understanding that digitalization of cultural heritage must be seen not only as an adaptation to the modern world but also as a tool for protecting and promoting heritage, expanding its audience, educating and creating a new economy that creates jobs and growth.
You can watch the video of the conference in Bulgarian here.
Commissioner Gabriel at 00:34
Presentation by Dr. Aneta Doncheva at 03:38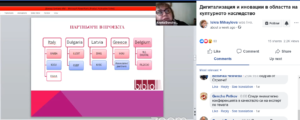 Featured image by Clark Young on Unsplash