Europeana Communicators & Education webinar: Culture From Home – Education will happen on 11 June 2020 at 10:00 – 11:00 CEST.
The fourth edition of the Culture From Home webinar series brings together experts in cultural heritage and education. The event will be moderated by  with Susan Hazan, co-chair of Europeana Communicators, who will reply to all questions. The following step will be 'Tana Libera Tutti' session, in which the floor is opened to all participants – take the opportunity to discuss your activities and challenges with colleagues from all across Europe.
Speakers:
Isabel Crespo, Manager of the Europeana Education community will present how Europeana last year got more than 2,000 teachers designing learning material with digital culture. Isabel will also introduce future plans to engage with museum educators.
Emma Abbate, a teacher and teachers' trainer will present 'Europeana and Minecraft: a gamified approach to digital archives to enhance creativity in the classroom'.
Anke von Heyl, art historian and museum educator, specialist for participation in social media, will talk about how to bring art and people together with her presentation, 'Between listening and inspiration – art education in the digital area.'
This webinar is brought to you by Europeana Communicators and Europeana Education – specialist communities of the Europeana Network Association – in collaboration with the Europeana Foundation.
To join the webinar, sign up on https://www.eventbrite.co.uk/e/europeana-communicators-education-webinar-culture-from-home-education-tickets-106891691928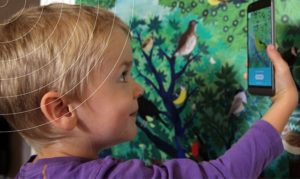 About Europeana
Europeana is a single access point to the digitised European cultural and scientific heritage. The online portal was launched by the President of the European Commission in November 2008. Europeana supports the cultural heritage sector in its digital transformation. It develops skills, tools and strategies to embrace the changes in the digital world and encourage collaborations that promote innovation. It empowers cultural heritage institutions, such as archives, libraries and museums across Europe, to share cultural heritage for recreational, educational and research purposes. Europeana Collections provide access to more than 50 million digitised items, including books, music, artwork and much more, all thanks to advanced filters and search methods that help you find what you are looking for.
The Europeana Foundation is an independently governed, non-profit organisation. It leads the consortium of partners that delivers the Core Service provided by the Europeana platform. It drives capacity building for the digital transformation of the cultural heritage sector.
Featured image by Clarisse Meyer on Unsplash
webinar image from Europeana