On 25 June 2020 (16:30 – 18:00 CEST) Steven Stegers, executive director of EuroClio, is running a free online workshop 'Creating eLearning Activities with digital collections'.
Would you like to use cultural heritage digital collections to challenge and support learners to think critically and historically? To help you with this, EuroClio – European Association of History Educators, Webtic and Europeana.eu, have created Historiana.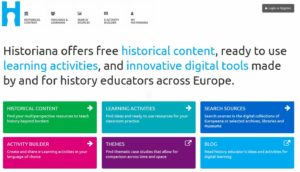 Historiana offers free historical content, ready to use learning activities, and innovative digital tools made by and for history educators across Europe. It is a virtual learning environment where educators can search the collections of museums, archives, and libraries, and can create e-learning activities in their language of choice. The activities can be designed for students to highlight texts, compare sources, sort information, discover connections, and watch videos.

To attend the webinar, please follow this link. At the end of the webinar, the organisers will ask the participants for feedback and ideas for further cooperation.
Featured image by Giammarco Boscaro on Unsplash