Happy Birthday Mabic, the Cultural Library in Maranello (MO), Italy!
From 17 to 21 November 2020, the library users (adults, teenagers or kids) will receive a special gift. The library surprises its users and gives away a book (while supplies last). The initiative has been promoted by the Italian library in its ninth anniversary.
Mabic (acronym  for Maranello Biblioteca Cultura – Cultural Maranello Library) is located in the city where the Ferrari company and Museums are located. It  is an innovative cutting-edge structure designed by the studio Arata Isozaki & Andrea Maffei. It represents a cultural centre of great interest, together with other buildings of value, such as the Wind Gallery designed by Renzo Piano (a famous Italian architect), the Ferrari Citadel by Massimiliano Fuksas (another famous Italian architect) and the vehicle assembly building designed by Jean Nouvel (a famous French architect).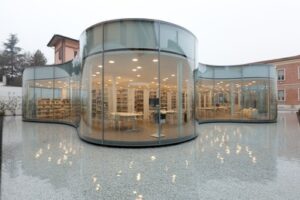 The Mabic Library has an innovative, harmonic and efficient architecture, offering great services and organising several events. It looks like an island surrounded by transparent surfaces of water and ivy-coated walls, enriched with large windows and natural light.
Despite the current national and world situation due to the COVID-19 pandemic that is again limiting people from attending public places, many libraries – Mabic included – have been adapting and are now offering a take-away service in complete safety.
This alternative system ensures that users may access library's documents/magazines/books directly from their home. Now, as never before, there is an urgent need to promote the culture in all its forms and through all the means. It is important that each of us have the opportunity to continue to inform ourselves, read and discover new resources. People can do so by borrowing paper books or accessing the online catalogues that many libraries made available to users all around Italy.
Mabic is an example of how a library can maintain contact with its users, giving them a book and offering a safe take-away service.
And what about you? Are the libraries in your country open? If so, how are you coping with the situation?
For more info, visit Mabic
By EGInA