For the #ErasmusDays 2020, our Biblio consortium organised a photo challenge inviting library users to share their ideas on innovative digital activities and services they would like to have in their libraries. Many thanks to all the participants! The ideas, coming mainly from Latvia and Italy, will be used for inspiration for the work-based phase of our Biblio training for librarians.
The two best ideas were selected by the project partners, and the winners have received their prizes – hoverboards!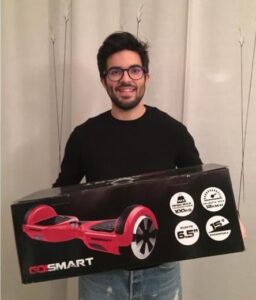 One hoverboard went to Italy for Elia Ruggiero. Elia's proposal for
Biblioteca Centrale Roberto Ruffilli is to create a digital service that informs in real time about how many seats are occupied and how many are still open. This would help the organization of the library itself during a difficult period due to Covid-19, not creating gatherings of people given the reduction of available seats for safety and prevention.
Another winners of the #DigitalBiblio Photo Challenge is the Jēkabpils City Library from Latvia.
The proposal is to use an electric scooter to deliver books to people who cannot go to the library. The idea of Jēkabpils City Library was to expand the range of users of the library by providing books at home using a modern means of movement – electric scooter . Library users make a book reservation via electronic catalogue or by telephone and the librarian delivers it to the addressee as soon as possible. This service would be particularly convenient for seniors, people with restrictions to be socially active, including those with reduced mobility, as well as those who are in self-isolation or quarantine. Such a service would be economical and environmentally friendly.
You can learn about the library and its activities in one of our previous posts.
The library has also received the hoverboard, which can be seen in their video:
Do you have other ideas for your libraries? You can always share them with us, as the training for librarians is taking shape now!
By ALL DIGITAL