An ambitious project to create a "Liquid lab" from a former library: the Digital Library will open its doors next autumn in Italy.
The former "Roberto Ruffini" library, currently closed, will become a Liquid Lab, affiliated with Salaborsa, a famous library located in Bologna in the main square "Piazza Maggiore".
The call to redesign the new spaces has just been opened by municipality to create an innovative library that will offer workshops and multidisciplinary courses, encouraging research and experimentation within the field of reading, through the use of multiple languages and technologies such as gaming, coding, robotics, fablab. The idea is to create a library that will offer soundproofed workstations where users can work remotely, benefiting from tablets and 3D printers.
The Liquid lab will promote new technologies combined with 'old-fashioned' books.
The name "Liquid Lab" came from the idea to create an innovative space to be used by any user, but also to "spread" such phenomenon around, encouraging other libraries in the city to follow the example.
The library will be part of the famous Salaborsa Library, which was opened in 2001 in Palazzo d'Accursio and it is still an important reference point for students and citizens. Located in "Vicolo Bolognetti 2" and currently closed, the future Liquid lab will soon have a new look.
The call is fully funded – as stated by Veronica Cerruti, the new director of the municipal libraries circuit – and the funding will be allocated to the project that provides tools, skills, experts and tutors that propose a "creative approach to digital and technology, creating original and critical paths of thought and imagination".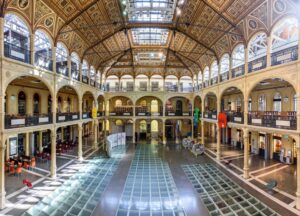 By EGInA
Featured image from Biblioteca Salaborsa Facebook page