Our greatest success is the feeling of accomplishment our trainees feel. But let's hear it from them! 
This is Krasimira Nyagolova talking about her experience attending the CECO (Community Engagement and Communication Officer) training course, from Bulgaria.  
In the next following weeks, we will get to know other trainees from all around Europe, make sure to follow us! #DigitalBiblio #WBLstories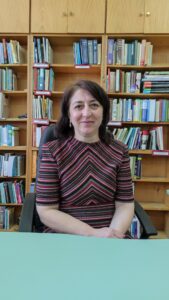 Why did you decide to take part in the BIBLIO course?
I have participated in many trainings over the years, upgrading my knowledge, skills and vision for our library. The BIBLIO MOOC includes new and innovative courses that I haven't encountered before, with well-developed topics and detailed explanations.
What change do you want to make in your library?
I want citizens to see the library not only as a place to borrow books, but as a meeting place, a place for free time, a place to discuss and implement ideas. But most of all, I want the library and librarians to lead their communities by example.
Tell us more about the work-based learning – how does it work, what do you expect from it, how do you work with your mentor?
The advantage of work-based learning is that I can discuss new ideas with colleagues as they arise and we can work together to improve library services. It is also really convenient to be able to get in touch with my mentor whenever the need arises and to receive guidance in real time.
What is, in your view, the future role of libraries?
Libraries and librarians are important to society as mediators of people and ideas. In the future they will continue to play a significant role connecting people in their communities to each other and to new and different ways of thinking.
If you have to explain to people in one sentence why they should come to the library and what they will find there, what would you say?
In libraries, you will find the people who can most quickly set you on course to realise your ideas.