Our greatest success is the feeling of accomplishment our trainees feel. But let's hear it from them!
This is Laura Lubkina talking about her experience attending the DIGY (Digital Transformation Facilitator) training course, from Madona District Library, Latvia.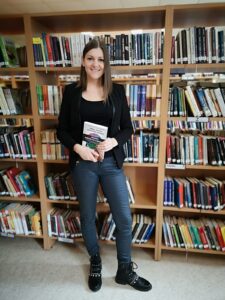 Why did you decide to take part in the BIBLIO course?
I guess I'm a person who likes to learn, especially if it involves IT. I saw the BIBLIO MOOC courses as a great opportunity, but I applied for the BIBLIO specialisation course because the DIGY profile covered many topics that are relevant to me right now.
What change do you want to make in your library?
Madona District Library has a goal to create a digital empowerment centre where every library visitor would be able to explore the unique possibilities of modern technologies, such as Virtual Reality, kinetic games, 3D printers, robotics, etc. And we are working on it.
Tell us more about the work-based learning – how does it work, what do you expect from it, how do you work with your mentor?
Work-based learning has the advantage that any issue can be resolved immediately. Everything is available locally. We also have the advantage of being a small team (10 employees) and all colleagues can be contacted personally within 1 minute.  We have very good cooperation with the mentor. Working together, we complement each other's knowledge and skills.
What is, in your view, the future role of libraries?
Libraries were, are and WILL be! For many people, the library is the first place they turn when they need help. But to survive, libraries need to move with the times and be competitive not only with information available on the web, but also with entertainment and leisure facilities.
If you have to explain to people in one sentence why they should come to the library and what they will find there, what would you say?
The library is an ocean of information – catch the wave!