It is Wednesday, and you know what? It is time for our weekly interview!  
 This is Valentina Terzieva talking about her experience attending the CECO (Community Engagement and Communication Officer) training course, from Bulgaria. 
In the next following weeks, we will get to know other trainees from all around Europe, make sure to follow us! #DigitalBiblio #WBLstories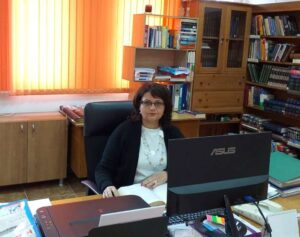 Penyo Penev City Library, Dimitrovgrad  – Valentina Terzieva
Why did you decide to take part in the BIBLIO course?
My main motivation for participating in the BIBLIO course is my strong belief in the need for lifelong learning. I take advantage of every opportunity to upgrade my professional knowledge and skills so that I can keep up to date in an ever-changing environment.
What change do you want to make in your library?
I want our library to become an intermediary between users and modern technology, and I am happy to say that we are already taking our first steps in this direction.
Tell us more about the work-based learning – how does it work, what do you expect from it, how do you work with your mentor?
Work-based training gives excellent results because it combines both theory and practice, as well as mentor support that allows trainees to fully develop their potential.
What is, in your view, the future role of libraries?
Libraries will assume a primary role in society if they manage to keep up with the current pace of change and take the needs of their users into account in their planning. If they achieve this, their central place in society will be indisputable.
If you have to explain to people in one sentence why they should come to the library and what they will find there, what would you say?
Our library will turn 70 in 2023 and I wanted to come up with a slogan that clearly expresses our place, role and ambitions for the community. My colleagues and I eventually united around: Penyo Penev City Library