Our partner, European association ALL DIGITAL is running its annual All Digital Week campaign with hundreds of partners and events across Europe. All Digital Week strives to give people tools and approaches to develop and enhance their digital skills.
Since 2010, the campaign has involved over 1 300 000 people.  For many of them, it was their first acquaintance with digital technology, they made their first clicks and went online for the first time, which encouraged them to continue training further. This is the 12th year of the Europe-wide campaign, and it is more important than ever: Europe needs better digital skills to go beyond the pandemic.
According to Digital Economy and Society Index DESI, 42% of EU Population do not possess even basic digital skills, and with All Digital Week, we want to help them start their digital journeys and improve their digital competences and confidence to do it.

Stats from Digital Economy and Society Index Report 2020 (1), Digital Education Action Plan Factsheet (2,3), Fake news and disinformation online report (4), Attitudes towards the impact of digitisation and automation on daily life survey findings (5)
Be a Digital Hero!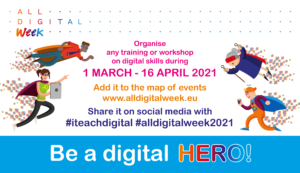 Any organisation or individual can join the campaign by running a digital skills training or awareness raising event and adding it to the map of events. Anybody can be a digital hero!
(By the way, the visual images for #AllDigitalWeek2021 were created by Biblio's other partner – EGInA
It is very easy! Follow these 3 simple steps:
Organise an event from 1 March till 16 April under one of the core themes:

Basic Digital Skills and Media Literacy
Coding, STE(A)M, and AI
Advanced Digital Skills and Employability
Digital Cultural Heritage

Add it to the map of events
Promote your event with hashtags #AllDigitalWeek2021 and #iteachdigital and using All Digital Week banners
ALL DIGITAL with partners have organised a number of central events in English that anybody can join. One of the events is our Biblio event "Boosting Digital Skills and Competences of Librarians" on 31 March. Learn more and register!