As is well known, for some months, the BIBLIO project has branched out into the national localization, ensuring that each partner nationalizes the project. According to this idea, some initiatives have been born to promote the project and ensure that learners can deepen some issues.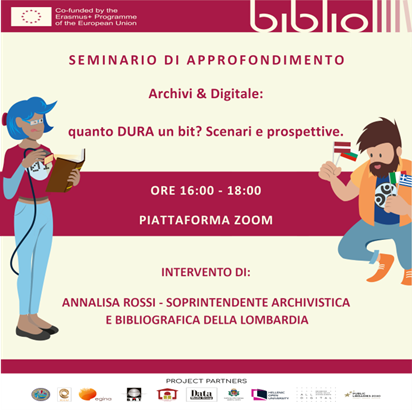 On 1/4/2022, in Italy, an exciting webinar was organized by the Department of Humanities DIRIUM[1] of the University of Bari Aldo Moro in collaboration with the Archival and Bibliographic Superintendency Lombardy[2]. Superintendent Annalisa Rossi presented her contribution entitled "Archivi & Digitale: quanto dura un bit? Scenari e prospettive" on the issues and the topics of digitization linked to the Archive. BIBLIO learners participated by arguing and proactively discussing the problems they experimented with for some time in this context.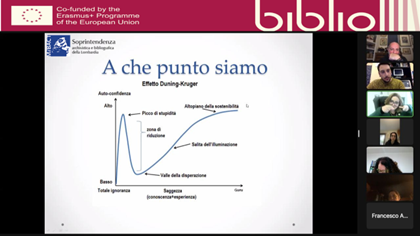 [1] https://www.uniba.it/ricerca/dipartimenti/dirium, (last consulted: 03/05/2022).
[2] https://www.sa-lom.archivi.beniculturali.it/home (last consulted:03/05/2022).