The BIBLIO Massive Open Online Course (MOOC) is a modern course, which enables learners to develop digital and transversal skills that are considered to be fundamental for library professionals in the new era.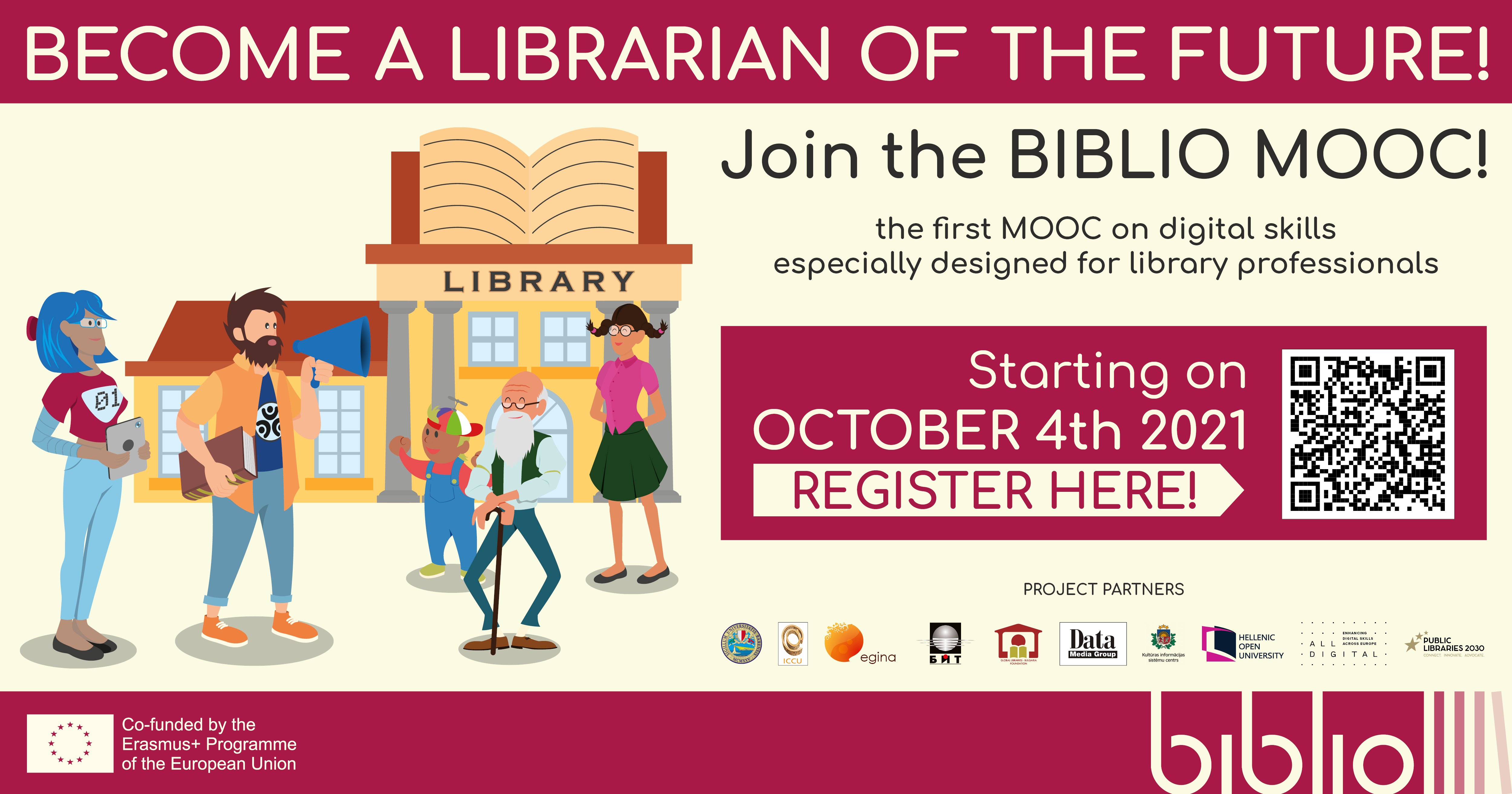 The BIBLIO MOOC consists of twenty six (26) modules dealing with topics such as Managing data, information and digital content, Basic principles of data safety and security, Digital citizenship, Spotting opportunities, Mobilizing resources, etc.
Digital training material will be available online and the learners will be able to join a community of peers by participating in open discussions and active interaction through a forum.
A series of webinars are planned based on the modules of the MOOC, where renown experts will present good practices and case studies.
Within the BIBLIO community platform, participants will be able to discuss on librarianship topics and relevant issues.
At the end of each unit, learners can self-assess their progress with the help of online quizzes.
The MOOC platform is being developed by the DAISSy Research Group of Hellenic Open University (HOU). DAISSy, which holds a longtime experience in MOOCs' development, had been working hard along with all BIBLIO partners to deliver a modern MOOC that serves efficiently the professional development needs of library professionals. The MOOC is based on the Learning Management System (LMS) "Moodle", the most known open source LMS (compatible also with Android, iOS), which serves a very large community of learners and offers responsive design (mobile friendly included).
The BIBLIO MOOC kicks off at 4th October 2021 and is available in English to all interested learners around the world, by the BIBLIO consortium.
Participation is free of charge and the registration is easily done by filling in the form here.
Participants who successfully complete the MOOC will be awarded a Certificate of completion.
The MOOC is part of the modular training programme for the development of the competences included in the CECO and DIGY job profiles. It will be followed by the BIBLIO blended training course and the work-based learning activities.
Watch the introductory BIBLIO MOOC trailer, obtain a concrete idea about it and do not forget to register now!
By the DAISSy Research Group of the Open Hellenic University