On the 29th of September, during the ALL DIGITAL Summit 2022, the Biblio project was presented under the culture track workshops.
The event was organised by PL2030 at Vzlet in Prague, Czechia and was called: "BIBLIO X National Library of the Czech Republic present: BIBLIO work-based learning and the Digitisation Activities of the National Library of the Czech Republic".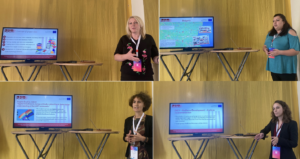 The main aim of the event was to promote the work-based learning results. Namely, some of the trainees' experiences were presented through videos and partners showcasing their testimonials. The Czech National Library was also involved, thanks to Mr Foltyn's presentation of other digitisation activities and the importance of updating competences in the sector and being digitally ready.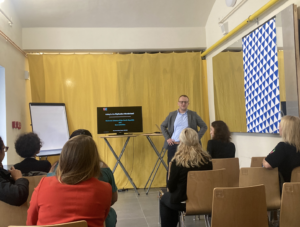 The BIBLIO project was well received by participants and would be well received in a standalone event, which will be organized under the auspice of the ALL DIGITAL Weeks 2023, next spring.
EVENT AGENDA
 
Description 
Speaker name 
14:15
Opening of the workshop
Tiana Zignani, Programme Officer at PL2030
14:17
Presentation of the BIBLIO project, its objectives and methodologies
Elisabetta Mei, Junior Project Manager and Translator at EGInA
14:25
Presentation of the BIBLIO work-based learning course developed by the consortium
Denitsa Dimitrova, Assistant Professor UNIBIT
14:33
Hear from the trainees and trainers! A look into the experience of the Latvian, Greek, Italian, and Bulgarian trainees and trainers as they progress through the BIBLIO work-based learning course
Andra Krasavina, Researcher at DMG

Foteini Gatomati, Administrative Assistant at DAISSy Research group of HoU

Flavia Massara, European Projects officer for ICCU

Spaska Tarandova, Project Manager at GLBF

14:55
Presentation of the Czech National Library's digitalisation activities "Living in the Digitization Wonderland! National Library of the Czech Republic and its e-activities". Starting from the 1990s all the way until now, the Czech National Library has undertaken a wide variety of digitisation activities.
Tomáš Foltýn, Director of the Czech National Library
15:15
Q&A with the audience
15:30
Workshop ends
You may find more information about the ALL DIGITAL Summit 2022, following this link.