The BIBLIO project was promoted by DAISSy Research Group of Hellenic Open University (HOU), the Greek project partner, within "CDDC" EU project national online conference.
Within the Crowddreaming: Youths Co-Create Digital Culture (CDDC) project aimed to disseminate and scale-up at European level a good practice in the field of the valorization of digital cultural heritage as a means for inclusive education and for the promotion of European values among youngsters.
DAISSy Research Group, thanks to its extensive experience, has been responsible for the implementation of CDDC in Greece, and furthermore specifically appointed with the development of the CDDC Massive Open Online Course (MOOC).
BIBLIO project and its under development MOOC was pinpointed by Prof. Achilles KAMEAS, Director of DAISSy, in his introductory speech at the online Conference entitled "Enhancing the digital skills and creativity of teachers" organized at national level on 14.4.2021 by DAISSy.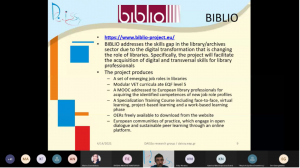 The Conference showcased how more than 1,600 students from Greece, Italy, Croatia and Latvia, under the guidance of 90 teachers and the support of educators, explored how their local history relates to other European nations following their MOOC training. The results of their work are on display at the Europa Square digital monument, which houses more than 80 digital scenes created by young people.
More than 55 people actively participated throughout the entire Conference being informed about the BIBLIO project. The event offered inspiring keynotes, discussion with representatives of institutions, NGOs and civil society organizations, presentation of the CDDC project results and, exploitation possibilities through linking with other ongoing projects and initiatives (such as the BIBLIO project).
Find out more about the interrelation of BIBLIO with CDDC on Daissy website, CDDC website and BIBLIO Facebook page.