On 26 June, at the 'Startups on Air' event with participation of civil society organizations, innovation hubs and academic institutions, a vivid EduTech session took place about the future of education and the impact of technology on it.
The "Startups on Air" event, involving innovative ideas and startups, success and failure stories, was powered by #PatrasIQ (Innovation & Technology), the reference and interconnection point of the relevant ecosystem of the city of Patras. The "PATRAS IQ" initiative has embraced education, innovation, research and entrepreneurship on an annual basis and at national level for more than seven years in a row. It has been strongly supported by Hellenic Open University (HOU) since the beginning and is being implemented in Patras, metropolitan centre of Western Greece, the city of the HOU Headquarters.
The "Startups on Air" powered by Patras IQ is supported by the Chamber of Commerce of Achaia, the University of Patras, the Hellenic Open University (HOU), the Patras Science Park, the National Bank of Greece,the POS4workInnovation and Entrepreneurship Node, the InterMediaKT(NGO), the Orange Grove and other agencies. This initiative is also sponsored by "Teleicce" EU project targeting the promotion of the most up-to-date tele-working and mass open online training for improving  the competitiveness of SMEs and the employment of professionals, funded by the "INTERREG V-A Greece-Italy" EU Programme.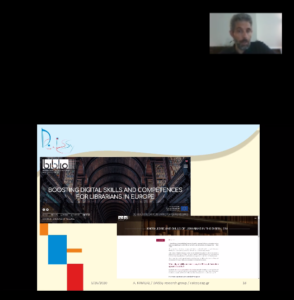 Prof. Achilles KAMEAS, Director of DAISSy Research Group of HOU, the Greek partner of the Biblio project, participated in the "Startups on Air" EduTech session. He presented related actions of DAISSy and focused on the Biblio project taking into account its innovative content and its firm interconnection with the impact of technology and digitalization on the libraries world! The online discussion was vivid and raised the interest of the speakers and participants from the sectors of ICT, economy and finance, education and research, innovation and entrepreneurship. It proved to be an excellent platform of matching Biblio with PATRAS IQ and INTERREG providing added value to the establishment of new bonds, the enrichment of stakeholders, the promotion of the project and its current results.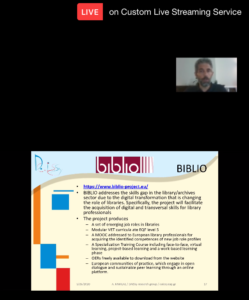 By DAISSy-HOU
Featured image by Camille Vandoorsselaere on Unsplash