The BIBLIO project was promoted by DAISSy Research Group of Hellenic Open University, one of the Greek project partners, within "EDEN" international online webinar.
More precisely, the EDEN- European Distance and E-Learning Network organized an international webinar about "Online educational courses on cultural topics – helping the Creative Industries sector reinvent itself during a crisis" within the framework of the Open Education Week 2021 (3.3.2021).
The online event presented innovative pedagogical trends of MOOCs created around the topic of digital cultural heritage and much more. The related study cases demonstrated how these courses are created to have a better interaction with students remotely in synchronous and asynchronous ways.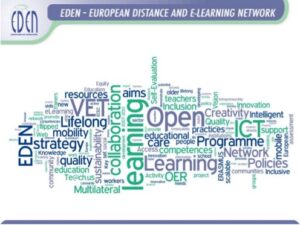 BIBLIO project was pinpointed by Prof. Achilles Kameas as an excellent related example and the BIBLIO methodology was analyzed as well as the emerging job profiles in the Library world due to digital transition.
Emphasis was put on the content and key characteristics of the upcoming BIBLIO MOOC that will enable the learners to know more and build up their digital and soft skills as well as their transferable and digital competencies, which are considered fundamental for library professionals in the digital era.
The international EDEN webinar attracted the interest of more than 50 participants mainly from the sectors of academia and VET, and besides the scientific presentations, it included vivid discussions that provided food for thought. The organizer, the European Distance and E-Learning Network celebrates its 30th Anniversary this year and exists to share knowledge and improve understanding amongst professionals in distance and e-learning and to promote policy and practice across Europe and beyond. With more than 180 institutional members and over 1100 members in the Network of Academics and Professionals (NAP), EDEN assists a wide range of institutions, networks and individuals to become involved in professional information and networking activities.
Find out more about the EDEN webinar and the interrelation with BIBLIO:
► http://www.eden-online.org/eden_conference/online-education-courses-on-cultural-topics-nap-webinar/
► https://www.youtube.com/watch?v=i2CxIOhcRqI&ab_channel=EDENSecretariat
► https://www.youtube.com/watch?v=koXkdC-h7IA