On October 7, the Latvian trainees and their mentors of the project "BIBLIO – Boosting Digital Skills and Competences for Librarians in Europe" (BIBLIO) Specialization course pilot met in Riga at the seminar "Work-based learning for the promotion of digital skills and competences for librarians".
The aim of the seminar was to inform trainees and their mentors of the BIBLIO Specialization course pilot about topical issues in the work-based learning process, which has started in September of this year and will run until November 30.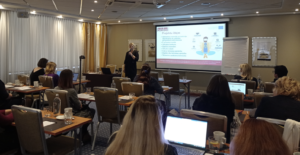 The seminar was organized by BIBLIO project partners in Latvia – Culture Information Systems Centre and DMG Ltd. More than 35 participants of the Specialization course and their mentors took part in it.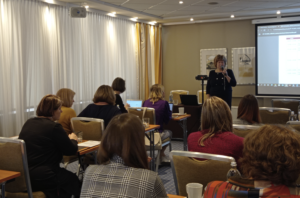 Representative of DMG Ltd. Māra Jākobsone welcomed all participants and expressed her satisfaction with the responsiveness and interest of Latvian libraries in the project and emphasizing that librarians, while learning, also act as researchers, who, with their involvement and sharing of experience, help to jointly create and improve the curriculum and methodology created within the project. Representatives of the project implementers in Latvia, Inga Niedra (Culture Information Systems Centre) and Vita Vītola – Lapiņa (DMG Ltd.) looked back on what has already been done and the next steps of work-based learning within the Specialization course. Five trainees presented individual projects to get an insight into the progress of the learning and to share experiences with what has been done so far. Head of the Pilsrundāle Library Aelita Ramane gave a presentation "Digital Calendar of Rundāle resident", chief librarian of the Madona District Library Laura Lubkina presented the project – "100 Years of Madona District Library!", Dzidra Ješkina, Manager of Vecpiebalga Parish Library presented her project – "Improvement of Digital Marketing of Library", librarian of Skrunda Town Library Baiba Šurma presented her project "Library in the Circles of Time" and senior librarian in collaboration with children and young people of Ventspils Pārventa Library Vita Ozola – "Services for Cooperation with Families and Educational Institutions".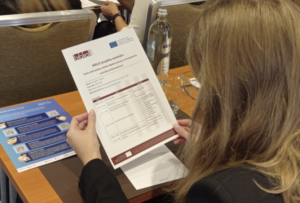 The seminar ended with informal talks between the trainees, their mentors, trainers and representatives of the BIBLIO project partners in Latvia about topical issues related to the library industry and education of librarian.