The digital transformation is changing the role of libraries and library professionals, and it's not always easy to understand and adapt to it. The Biblio project aims to identify the skills gap in the Belgian, Bulgarian, Greek, Italian, and Latvian library sector resulting from the digital transformation, develop a VET curriculum in response to emerging job profiles, and pilot a MOOC as well as specialised training.
Partners have designed the draft of modular VET curriculum addressing EQF level 5. At European level, the knowledge to be achieved at Level 5 are shall be comprehensive, specialised, factual and theoretical within a field of work or study and an awareness of the boundaries of that knowledge. This level also includes a comprehensive range of cognitive and practical skills required to develop creative solutions to abstract problems. Such profiles will be able to exercise management and supervision in contexts of work or study activities where there is unpredictable change; review and develop performance of self and others.
33 external experts from project partner countries and beyond validated that the general descriptions of the identified two distinct job profiles and the selected training modules correspond to EQF level 5. The project partners continue to work on the development of a detailed modular VET curriculum.
Based on the results of the research activities, project partners have identified two distinct job profiles at the base of the VET Curriculum: Community Engagement and Communication Officer (CECO) and Digital Transformation Facilitator (DIGY).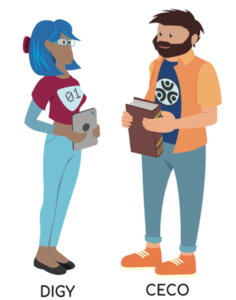 The Community Engagement and Communication Officer (CECO) is a flexible, proactive, and digitally aware worker. They use local and national data and information from community engagement to assess community needs and set priorities for outreach services. They work with communities and engage people outside the library walls through various channels, including neighbourhood meetings, community-based organizations and groups, networking, social media and other communication methods.
See the full profile for Community Engagement and Communication Officer
The Digital Transformation Facilitator (DIGY) is a flexible and proactive worker with the capacity to support the library team in the transition to the digital era. They will provide technical support to their colleagues and the library's activities as it adopts new digital tools. They are able to use online collaboration tools and platforms, design and/or select content and services for different purposes. They also support the cataloguing, archiving and digitisation of books and documents, and the curation of digital resources and collections.
See the full profile for Digital Transformation Facilitator
If you'd like to stay informed about the latest developments of our project, follow us on Twitter (@digital_biblio) and Facebook (@DigitalBiblio)