Like never before, libraries in this era must make the effort to go out of their walls to meet their audiences, their users.
Antonella Agnoli, an expert in the design of new generation libraries, a few years ago in a monograph that has become famous in the field, defined libraries as "squares of knowledge[1]" precisely because libraries should be landmarks of city life, places of culture, well-being, recreation, socialization, study, equal opportunities. Meeting places for everyone, not elite ones.
Therefore, it is also important for libraries to get outside their walls, both metaphorically and literally.
In this regard, after seeing the famous images of libraries on beaches with their colorful shelves, with the "Beach Bookshops" project, desired and implemented by Legambiente Campania, inaugurated in 2012 with the opening of about 20 bookshops in as many vacation facilities, the city of Milan launched an experiment called Biblioexpress. At the beginning of 2021, it set up a collaboration with 30 city newsstands (and in some bookstores in the LIM – Librerie indipendenti Milano – circuit) for the lending service. This experimentation was aimed at facilitating access to the offerings of Milan's libraries by meeting those who had difficulty going to the library.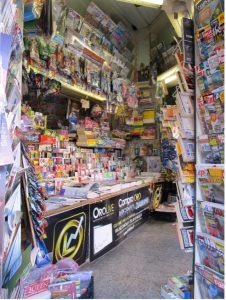 After this first experiment, these days Milan public libraries also have arrived on the subway platform at the Porta Venezia stop as an automated library, a vending machine that, instead of providing snacks and drinks offers books, comics, audiobooks and DVDs with a free service open to everyone 7 days a week (active until the subway is open) and realised thanks to a co-financing obtained from the Lombardy Region with the collaboration of the Milan Transport Company.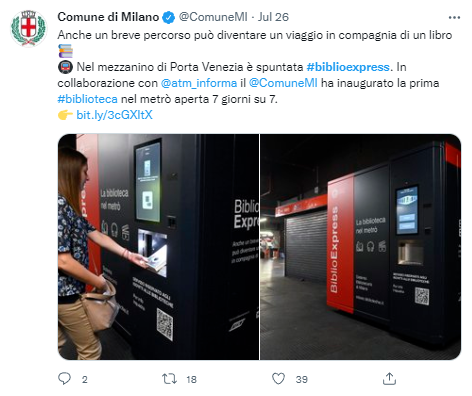 We hope that this initiative will be replicated in other Italian cities!
[1] Antonella Agnoli, Le piazze del sapere, Roma-Bari, Laterza, 2009.