Our greatest success is the feeling of accomplishment our trainees feel. But let's hear it from them!
This is Charalampos Antonopoulos talking about his experience attending the DIGY (Digital Transformation Facilitator) training course, from Greece.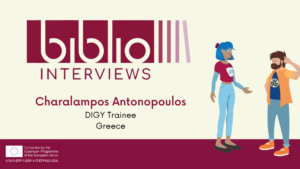 Why did you decide to take part in the BIBLIO course?
It was the program that brought an entire space out of its slumber. Nothing was done in Greece for years and the only knowledge about librarianship was provided only by the universities. But what happens to those who completed their studies a long time ago? Have we stopped asking for new knowledge? Has knowledge stopped evolving? No, everything evolves and librarians want to follow the same path. The program has greatly improved things in Greece and to tell the truth I expect a sequel. In 2-3 years, things will have changed again. What shall we do then? As a professional I want to stay active and always up to date.
What change do you want to make in your library?
The library in which I am employed has not acquired the modern understanding of things. It remains stuck in the processes and mindset of the past. Employees have the mentality that existed in the past and this will have to change. Libraries should become agents of innovation. When the way of thinking changes, the role of the library will also change.
Tell us more about the work-based learning – how does it work, what do you expect from it, how do you work with your mentor?
Theory alone is not a source of substantive knowledge. During the presentations, the theoretical coverage of the discussed issues was completed. The internship is the culmination of the whole process. During this phase we have the opportunity to understand in depth the knowledge imparted in the previous months. The positive of the whole process is the presence of the mentor, since he is always by your side to give details that are not mentioned in sources.
What is, in your view, the future role of libraries?
The future role of libraries is much closer to people and their needs than to the needs of content processing. Content is available and will always be produced, but people themselves and their ability to consume it is what matters. Digital content has created various challenges and society is not yet ready to face them. It is in this void that modern libraries come to act
If you have to explain to people in one sentence why they should come to the library and what they will find there, what would you say?
People and their informational needs come first.
In the next following weeks, we will get to know other trainees from all around Europe, make sure to follow us!
#DigitalBiblio
#wblstories