The Ampioraggio Foundation, that connects innovators for creating new business opportunities in several market fields, organized the "WebInArt", a webinars cycle focused on the creation of an inclusive and innovative ecosystem for generating sustainable and replicable effects on different territories and countries. Among the most interesting, the webinar on 12 May was focused on the theme "The skills to innovate".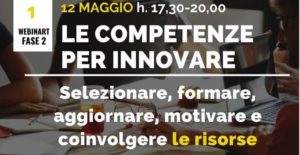 During the webinar, the theme of culture and digital was discussed by some prominent personalities, including:
Antonella Salvatore (Jhon Cabot University), founder and director of Osservatorio Cultura Lavoro
Carime Marinucci, President of the DiCultHer International Association
Professor Nicola Barbuti of University of Bari, coordinator of the Biblio project.
Professor Barbuti focused his discussion on the strengths and weaknesses that the digital world faces today. In particular, the importance of well-trained human resources to improve innovation processes in the digital age was discussed in the webinar, starting from the assumption that the lack of awareness, any entity or company will not translate technological or organizational changes into real value.
The webinar highlighted some interesting topics related to the Biblio project. One of the main concepts that emerged can be summarized with the sentence "Innovation mainly passes through people … Human resources are a fundamental investment in any business role". In our project, the single person – the professional of the future – is placed at the centre of the research. We focus a lot on the creation of a professional figure who knows the working world and the digital field.
We are sure that libraries should focus heavily on this aspect to improve their social and productive impact. For this reason, we highly recommend taking a look at the link below, if you understand Italian.
By UNIBA
Featured image by Matteo Maretto on Unsplash