The entry of ICT into our daily lives is questioning the physical role of libraries and library staff. Libraries are trying to offer the services that we know so far and to offer new ones. In order to offer innovative services, librarians must have the necessary skills.
Our colleagues from the University of Library Studies and Information Technologies – ULSIT, Prof. Ivanka Yankova, Assoc. Prof. Kalina Ivanova and PhD student Denitsa Dimitrova emphasized the extremely important role of digital skills in the training of librarians, presenting the Erasmus+ Biblio project at the 19th National Scientific Conference "Libraries – Reading – Communications".
The Nineteenth National Scientific Conference "Libraries – Reading – Communications" with international participation, organized by the National Library "Petko R. Slaveykov" – Veliko Tarnovo (Bulgaria) was held on 17 November 2020.  The conference was dedicated to strategies and partnerships between archives, libraries and museums for the preservation and access of cultural and historical heritage
The conference covered topics in the field of library and information sciences, book science, literary history, print communications and media.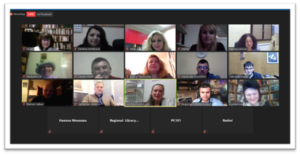 Our colleagues from ULSIT acquainted the conference participants with the need to combine vocational training in the profession of "Librarian" and training in digital competence in order to prepare librarians for the future. They talked about the need for supply of modern and various ways of communication with users and offering new forms of library services. This is where the role of the Biblio project comes into play, which aims to increase the digital competences of librarians in Europe.
The presentation of our colleagues included basic information about the project, such as:
essence of the project;
partners network;
completed and forthcoming activities.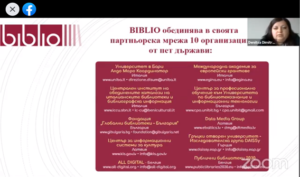 The presentation also included the two new working profiles of the library profession (CECO and DIGY) and ways of studies through which they were formulated. At the end, the official website of the Biblio project and the project social media pages were presented with the invitation to follow.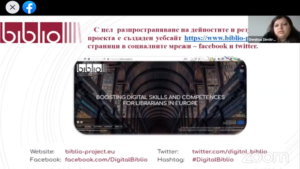 By ULSIT