We often talk about the future of libraries and how digital transformation offers an opportunity for an innovative and exciting development. What other visions of the library of tomorrow exist and how can we learn from that? Our case study for today is the Roskilde Libraries and their upcoming new library.
To set the scene, the Roskilde Libraries Service is building a new branch library in Viby but they do not want this to be a traditional library building. They are working in cooperation with the local cultural association KulturCosmos alongside the local archive and citizen services. The guiding principle with this new library is not to create four separate rooms in a communal house with no links in between but rather to build a shared house for the citizens of Viby. Ultimately, this new library build will support the view of public libraries as a "third space", a space to grow, to connect, to exchange.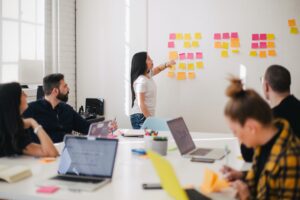 This exciting new library was conceptualised through half a year of workshops to find shared values and to allow the team to get to know each other. As this is a joint venture between four organisations, it is important that mutual understanding and trust is built early on to truly allow the space to play on each party's strengths. 
This exciting approach to how a library can be constructed to be truly at the heart of the community and built for the citizens. As the BIBLIO project is focused on the future of librarianship, we are excited to see what comes out of this project and how synergy can be built between this initiative and our work!
By PL2030