The 4th edition of Erasmus Days is coming up on 15-17 October 2020! Join us for the three days of celebration of the Erasmus+ Programme in Europe and beyond during the #ErasmusDays.
During these three days, Erasmus+ beneficiaries, European actors or alumni of the programme are organizing various events to share their Erasmus experience and/or to spread the word about their Erasmus+ projects.
Exhibitions, concerts, contests, seminars, partner networking, open days, distribution of Europass Mobility documents, digital events and more! There is a special dedicated website with a map of events for everyone to see what is going on across the world during these days. Our Biblio project is also there!

Join Erasmus Days with Biblio project and win a hoverboard!
Our Biblio consortium is also participating in the Erasmus days, and we are launching a contest! We would like to collect ideas on innovative digital activities and services that users want to have in their libraries. Those ideas will be used for inspiration for the work-based phase of our Biblio training for librarians.
How to participate? VERY EASY 3 STEPS!
STEP 1: Visit your local library and take a selfie or a group picture
It can be ANY library – public, school, university, specialized… etc. And don't forget about the physical distancing when taking a group photo!
STEP 2: Post the picture on social media (Facebook, Twitter or Instagram) proposing a digital innovative activity/service that you would like to see in your library.
For Twitter users – if it is not enough space for your tweet to describe your suggestion, take a screenshot of your idea and post it as an image next to your selfie from the library.
STEP 3: Specify the name and location of the library, include these hashtags: #ErasmusDays #DigitalBiblio.
You can also tag our project accounts on Fb and Twitter so that we don't miss your post!
SIX best ideas will receive a hoverboard!
The most creative ideas will be posted on our website and will be suggested for implementation in libraries. The project consortium jury will select six best ideas, that will receive a hoverboard and could be implemented during the work-based phase of our Biblio training next year.
Are you in? Spread the word about #DigitalBiblio contest during #ErasmusDays 2020!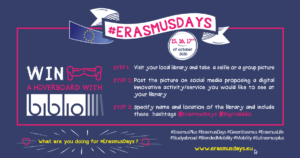 Our Facebook: https://www.facebook.com/DigitalBiblio
Our Twitter: https://twitter.com/digital_biblio
Featured image by Dimitar Belchev on Unsplash