The Biblio Consortium is proud to present the report "Librarianship in Europe – Mapping Professional Needs".
The report aims to identify the skills gap in the Belgian, Bulgarian, Greek, Italian, and Latvian library sector resulting from the digital transformation. The consortium mainly focused on public libraries as these were more relevant to the partners, however, if insights could be gathered from other types of libraries, these were included in the results of this report.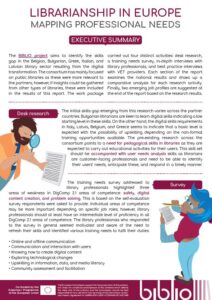 For the report, the partners carried out four distinct activities:
desk research;
training needs survey;
in-depth interviews with library professionals;
best practice interviews with VET providers.
Each section of the report examines the national results and draws up a
comparative analysis for each research activity. Finally, two emerging job profiles are suggested at the end of the report based on the research results.
Some of the findings:
The pre-existing research across the consortium points to a need for pedagogical skills in libraries as they are expected to carry out educational activities for their users.
The training needs survey addressed to library professionals highlighted three areas of weakness in DigComp 2.1 areas of competence: safety, digital content creation, and problem solving.
Overall, the interviewees felt that upskilling was necessary throughout a library professional's career in order to stay up to date with technological changes and have the relevant knowledge.
In general, there is an acknowledgement that library services need to be more digital-oriented and library professionals need to be able to leverage digital tools to serve their communities.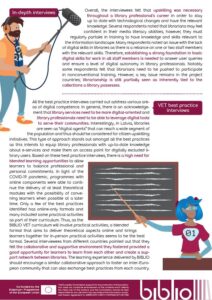 Interesting? Want to know more?
Featured image by freestocks on Unsplash