Let's talk about the new two job profiles of the library profession – presentation focused on knowledge, skills and competencies of the two new profiles created on the basis of in-depth research among the library community.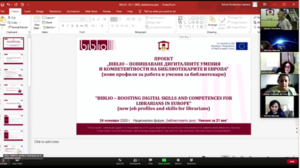 On 24 November 2020, the Bulgarian National Forum "Libraries Today: Skills for the 21st Century" was held online, organized by our project partner Global Libraries – Bulgaria Foundation and with participation of our other Bulgarian partner – ULSIT.
Assoc. Prof. Dr. Kalina Ivanova, Director of the National Library "Petko R. Slaveykov" – Veliko Tarnovo and member of the ULSIT team, gave a presentation in the national forum in Session 2: "Skills and services in libraries for the 21st century".
Assoc. Prof. Dr. Kalina Ivanova presented two new job profiles that were developed within our Biblio project: Community Engagement and Communication Officer and Digital Transformation Facilitator. She explained how they were formulated on the basis of questionnaires, desk surveys, interviews – in order to identify the needs of librarians for the necessary digital skills. Main duties and tasks for each profile were described in detail.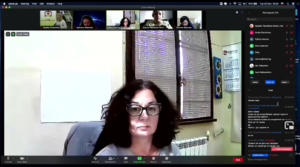 You can find the recording of the event here:  https://fb.watch/2gFWUOZwO4/
By ULSIT