Digital Transformation (DT) continues to affect society and the Cultural Creative Industries (CCIs) proposals. For this reason, it is vital to communicate and inform people about the latest digital trends.
In the last five years, the Ampioraggio Foundation has been trying to contribute with its innovative actions. One of them is Jazz'Inn, an initiative promoted for the first time in 2017, on the occasion of the Jazz Festival Sotto le Stelle in Pietrelcina (Benevento), creating a context of contamination between jazz and innovation and experimenting with a slow networking model between innovators and the market. Public and private actors meet in "slow dating for innovation". The model is characterized by slow meetings, collaborative networking, and skills integration.
Jazz'Inn involves companies, public administrations, investors, start-ups and innovative SMEs, research centres, professionals, and tech buyers: the innovation ecosystem. The meetings focus on developing case givers' proposals and products: companies and public administrations interested in collecting innovative ideas for their investments.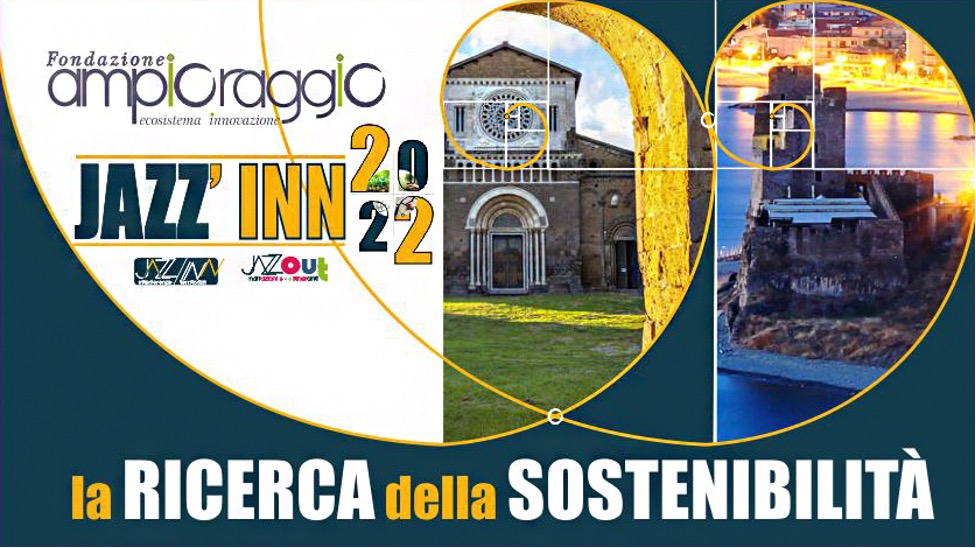 The Jazz'Inn 2022 edition will be held in two stages:
from 27 June to 2 July in Bracciano
from 27 September to 1 October in Roseto Capo Spulico
The Jazz'Inn comparison areas are:
SmartGovernment: Methods and tools for a P.A. "sustainable";
OpenIndustry: Businesses meet ideas;
Invocations: Technologies and social innovation for internal areas.
Jazz'Inn is divided into 4 phases:
Selection of case givers and objectives (scouting phase of Ampioraggiodays)
Construction and facilitation of work tables (slow dating of Jazz'Inn facilitators)
Analysis and evaluation of the results (follows after Jazz'Inn)
Implementation of projects
This approach transforms the event into a real think tank, where ideas can be stimulated and transformed into sustainable investments by involving innovators, investors and professionals in innovation and sustainable change, coordinated by Ampioraggio.
In Bracciano, CRHACK Lab Bari, an innovative start-up, has presented its products and initiatives with a contribution titled: Phygital solutions for a new relationship between the user and cultural heritage. The presented reflections and research intend to propose a different conceptual and practical-applicative perspective useful for reactivating the relational reciprocity between users and cultural resources, making the first central in use with goods both as inter-actors and the new role of potential content providers. In particular, CRHACK Lab presented:
– the iBari project;
– the EXEBOOK project, expanded endless book;
– the Borghi project, for interactive use of the mapping.
Mauro De Bari, University of Bari Aldo Moro, DIRIUM
Sources:
Ampioraggio Foundation, Home page, https://www.fondazioneampioraggio.it, (last consulted: 07/07/2022).
Youtube, Jazz'Inn 2022 – Presentazioni delle call da parte dei case givers 1, https://www.youtube.com/watch?v=sZ1fHUi3v_s, (last consulted: 07/07/2022).
Ampioraggio Foundation, Jazz'Inn 2022 – La ricerca della sostenibilità, https://www.fondazioneampioraggio.it/jazzinn-intro-call-2022/, (last consulted: 07/07/2022).
Facebook, CRHACK Lab Bari – Officine di Cultura Digitale https://www.facebook.com/CrhackLabBariOfficinediCulturaDigitale, (last consulted: 07/07/2022).
Youtube, iBari app – Ex Mercato del Pesce, https://www.youtube.com/watch?v=H5PQvTMgN8o, (last consulted: 07/07/2022).
Youtube, EXEBook – E adesso sfogliami per n@vigare nei 1000 anni di Modugno https://www.youtube.com/watch?v=3hibrvCSI5M, (last consulted: 07/07/2022).
D.A.BI.MUS. srl, Una nuova mappatura digitale dei borghi,  https://www.dabimus.com/home-borghi/, (last consulted: 07/07/2022).